Pecans are wonderful trees. Harvesting pecans can be quite profitable, but only if you are able to keep the trees alive. For beginners and the less experienced this is not necessarily an easy task. Below are some of the basics that you need to know to keep your pecans alive long enough to get a good harvest.
How to Care for a Young Pecan Tree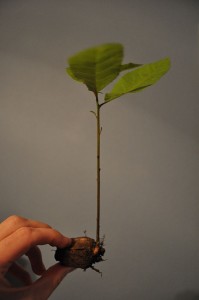 When you work on growing a young pecan tree, you are largely trying to keep the tree alive as its roots develop. After all, the roots are going to be growing during this stage, and the limited access to water can wreak havoc on the growing tree. As such, your primary duty when caring for a young pecan tree is going to be making sure that the tree gets enough water.  You aren't looking for just a small sprinkling – you need to make sure that the tree gets between ten and fifteen gallons of water each week. If you can get sufficient water to the tree by irrigation or rainfall, that's great – if not, be prepared to water the tree each day.
Fertilizing the area around the tree is also going to be an issue – but make sure that you never put fertilizer in the planting hole. Instead, apply about a pound of fertilizer (5-10-15) in a twenty-five foot area around the tree after about a month. This should hold you until March of the next year, at which time you will apply 10-10-10 fertilizer first in March and then in June. If your tree isn't growing between two and four feet, apply about one pound of ammonium nitrate tree fertilizer around the tree for each inch of the trunk's diameter. Make sure never to place fertilizer within a foot of the trunk, though.
Bearing Pecan Tree Care
When you're growing a bearing tree, your priorities are going to be just a little bit different. You're looking for a bit half a foot of growth a year, and less growth is going to mean more fertilizer for you. If you aren't getting the growth you like, you will need to use 10-10-10 fertilizer at a rate of about four pounds per inch of trunk diameter, up to twenty-five pounds.
Water's still an issue during this time, and you're going to want to make sure that drought conditions don't impact your pecan harvest during the year. Keep an eye on the soil as the nuts are growing, making sure to keep everything moist until August 15. From August 15 through early October is critical, though – each tree might need as much as 350 gallons of water, so make sure that you are ready for the needs of the trees.
Beyond that, you need to control the environment. Keeping insects, livestock and vermin away is a must. Keep an eye out for disease, and make sure to remove or destroy any impacted leaves. If you take care of your trees, you should get a great harvest of pecans that can not only be profitable, but will also be delicious.
If you are more of a visual person, check out this great video.